The world is changing, and we are all adjusting the way we live and shop. At Tempur, we are committed to protecting the health and safety of our customers and employees. Following closely to the government's guidelines, we have implemented a few measures so you can continue to shop safely with us. This is our Clean Shop Promise to you.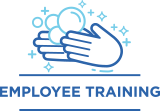 Employee Training
Associates will wear a mask and limit their direct contact with customers while increasing protective and hygienic routines throughout the day. All employees receive instructions on hand-washing, limiting contact, and keeping safe distances. Associates will monitor their health before coming to work and stay at home when they don't feel well.

Protecting Your Experience
We are limiting the number of shoppers in the store, and will adhere to a 1-metre safe distance at all times. All customers will be provided with disposable pillow and mattress liners for lying down on products.

Clean Store Environment
All high-touch objects and areas, including products, will be frequently cleaned and disinfected.

Careful In-home Delivery
Teams have received instructions on bringing products into your home with careful attention to distancing, sanitization, and overall safety procedures.
We encourage customers to join us in the fight against Covid-19 by:
Wearing a mask at all times in our store.
Checking in and out using the SafeEntryApp.
If you would prefer to have a private experience at our showroom, please book an appointment with us on this online form here or call our boutiques directly.
TEMPUR SLEEP SANCTUARY (FLAGSHIP STORE) @ 1 Nassim Road, #01-03 – Tel: 6262 0898
TEMPUR SLEEP BOUTIQUE @ 20 Martin Road, #01-01 – Tel: 6933 7668
TEMPUR SLEEP HAVEN @ Marina Square, #02-06 – Tel: 6337 8169
TEMPUR SLEEP RETREAT @ IMM #03-52 – Tel: 6261 3357